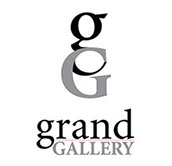 Toby Penney
The Grand Gallery is pleased to present paintings by TOBY PENNEY as our first exhibition of 2020. Toby is an internationally exhibited and collected multi disciplinary artist, originally from Tennessee (she holds a sculpture degree from Middle Tennessee State University) and now living in Frankfort where she has a studio in the former Good Shepherd School building on Wapping Street. She also offers art classes for children and adults, and is an enthusiastic and generous promoter of other artists in the community through the Frankfort Arts Alliance and Open Studio events, both of which she took the lead in organizing.
We are proud to join galleries around the world (including recent exhibition in Australia) who have featured her work. We're sharing some images from her installation in progress, and invite you to see her show from now through the end of March.
The Grand Gallery is open for most ticketed Grand Theatre events,
Thursdays 11am-2pm and by appointment call 502.352.7469.
308 St. Clair Street • Frankfort, KY 40601 • 502.352.7469
312 West Main Street • Ticket Office open Monday thru Friday, 10 a.m. to 3 p.m.